We work closely with the NHS, commissioning services and local community teams to improve and develop our services to meet health care needs both locally and nationally. Being a small company we are able to quickly respond to the changing needs of the people we help. At Huntercombe Maidenhead we have close links with the College Centre for Quality Improvement, the Open University and the University of West London.
The College Centre for Quality Improvement (CCQI) works with mental health services to assess and improve the quality of care they provide. They work with more than 90% of mental health service providers in the UK and focus on four key areas: quality networks, accreditation, national clinical audits, and research and evaluation.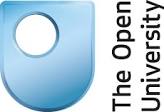 The Open University offers flexible part-time study, supported distance and open learning for undergraduate and postgraduate courses and qualifications.
The University of West London is ranked as one of the top modern universities in London, with 98% of their graduates in employment or further study within six months of graduation as of 2018.